The ReMade@ARI consortium includes a variety of actors and institutions with different responsibilities and tasks, largely based on the ARIE network. Our organizational structure and governance processes centered around 7 work packages (WP) enable us to develop and offer a single-entry point and tailor-made access roads for academics, industry, and SMEs to world-call analytical research infrastructures in Europe.
The project is managed by WP1 "Management" that coordinated and manages the successful implementation of the project. WP1 also is responsible for establishing and monitoring open science practices (including data management) and realizing an education program for the consortium. WP2 and WP7 are closely linked to WP1. The focus of WP2 "Impact Generation, Training and Education" is put on assessment, generation and sustainability of socio-economic impact which also includes communication and dissemination activities as well as training and education of users. WP7 "Ethics" takes care of the ethics requirements that evolve at different point across the project.
The triangle formed by WP3, WP4 and WP5 constitutes the core of the ReMade@ARI platform.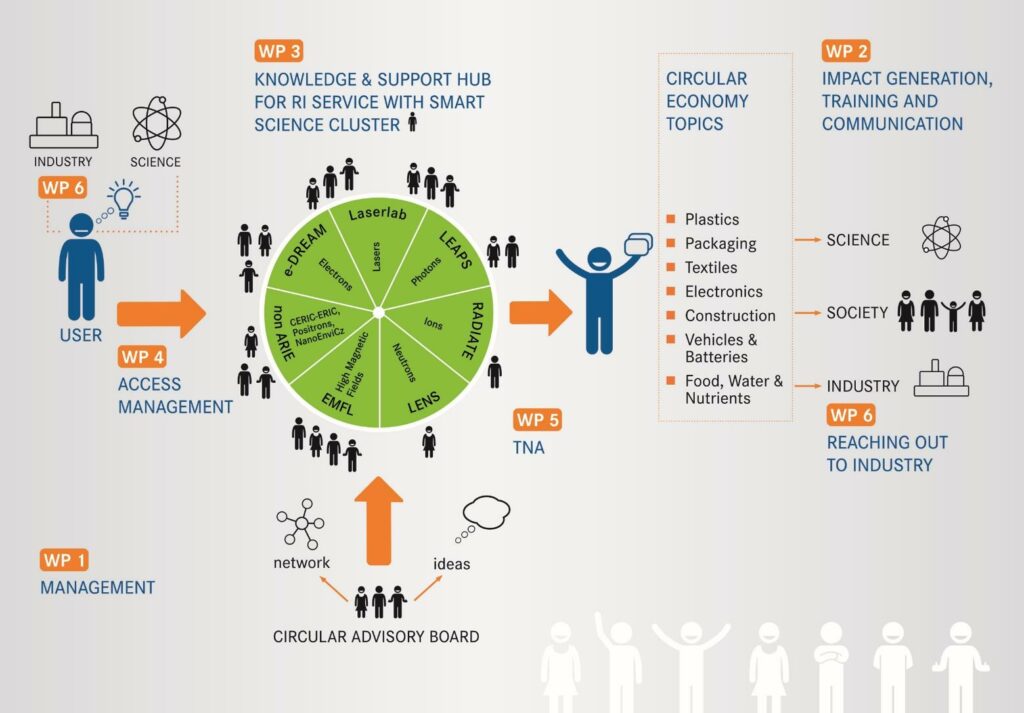 WP3 "Knowledge and Support Hub for Research Infrastructure Service" can be considered as the service centre, ensuring that each promising user idea is ultimately brought to success. The collaboration of senior scientists, experts from the ReMade@ARI facilities and 20 junior researchers hired specifically for ReMade@ARI, challenged by a scientific case proposed by a user, will create an extremely inspiring, interdisciplinary research environment, promising original and innovative approaches. The central task of WP4 "Access Management" is to establish an electronic access management system, a user selection panel and a central point for travel reimbursement. WP5 coordinates and organizes the 50,000 hours of access that are being offered by ReMade@ARI and that requires extensive communication and expertise across the diverse network of facilities.
WP6 "Industry and Innovation" aims at boosting innovation for the Circular Economy by offering effective access routes to research infrastructures for industrial companies of all sizes. This is an ambitious package of access routes tailored to the needs, capacities and boundary conditions of the various types of companies whilst still fully in line with the rules and regulations of Horizon Europe, thereby facilitating industry access to research infrastructures supported in the framework of trans-national access funding.
The 20 junior researchers in WP3 will constitute the Smart Science Cluster from which teaming partners are assigned to inexperienced users to support them in a one-to-one format. Junior scientists in the Smart Science Cluster will devote two thirds of their working time to user support. But the remaining time shall be used to pursue their own research projects, building their skills and future value for the facilities – either as facility staff or facility-aware researchers in academia or industry.
The work of the ReMade@ARI project would not be possible without the involvement of external advice and expertise which is represented by the Circular Economy Advisory Board and the Expert Network.